Shannon and I were eating at Chili's when I heard the news. From Kalitta Motorsports:
FOR IMMEDIATE RELEASE
KALITTA MOTORSPORTS
Media Contact: Todd Myers
tmyers@kalittaracing.com
901-301-4078
Scott Kalitta succumbs to injuries suffered in qualifying incident
ENGLISHTOWN, N.J., (June 21, 2008) - Scott Kalitta, a two-time former NHRA Top Fuel champion and one of just 14 drivers to have won in both of NHRA's nitro categories, died June 21, 2008, as the result of injuries suffered in a qualifying accident at Old Bridge Township Raceway Park in Englishtown, N.J., during the running of the Lucas Oil NHRA SuperNationals. He was 46.
Kalitta, the son of legendary Top Fuel and Funny Car racer Connie Kalitta, began his career in Alcohol Dragsters and reached his first final round at the 1982 Southern Nationals. He scored his first of what would be 18 career Professional victories six year later, in Funny Car, at the 1989 event in Houston. He later switched to Top Fuel, and joined the dual-fuel club with his first nitro dragster victory, in Topeka, in 1993. At that event, he also recorded the then-fastest speed in NHRA history (308.64 mph) at Topeka. Earlier that year, he had become the fourth member of the Slick 50 300-mph Club at Gainesville.
His great 1993 season set the stage for a championship run in 1994, during which he won five events, including four consecutive -- Columbus, Topeka, Denver and Sonoma – becoming the first Top Fuel driver to do so. Incredibly, he one-upped that season in 1995, where he won six events and a career-best 45 rounds of eliminations en route to his second straight championship.
He finished second in the standings in 1996, but had a fine season nonetheless, scoring a $100,000 victory in the Budweiser Shootout at the season finale in Pomona and set top speed at a category-best eight races.
After winning the Topeka event in 1997 – his fourth straight at the race – he announced his retirement from the sport and sat out until an abbreviated 10-race campaign in 1999. He returned after a three-year hiatus – joining his cousin, Doug, who was now driving for Connie and quickly showed he still had the skills to win, reaching two final rounds and clocking the fastest speed in history at 333.95 mph.
He finally returned to the winner's circle in 2004 with a breakthrough win in Denver and his fourth-place finished marked his sixth top-five points finish in the NHRA POWERade Series. He earned the final two wins of his career in 2005, when he scored in Top Fuel at the season-opening Winternationals in Pomona and in Chicago and finished the season eighth in points.
Kalitta returned to his Funny Car roots in 2006 and reached the semifinals in Denver that year. In 2007, he also reached one semifinal, but this year made his first final-round appearance in three years, and the 26th of his career, with a runner-up in Chicago two weeks ago.
Kalitta is survived by his wife, Kathy; sons Corey, 15, and Colin, 8; and his father, Connie.
Further details will be provided as they become available.
In lieu of today's tragic events, Kalitta Motorsports' race cars driven by Doug Kalitta, Dave Grubnic and Hillary Will will not compete in tomorrow's final eliminations of the Lucas Oil NHRA SuperNationals.
------------------------------------------------------------------------------------------------------
The Kalitta's have been in dragracing as long as I can remember. I am sure this will impact anyone in dragracing - racers and fans.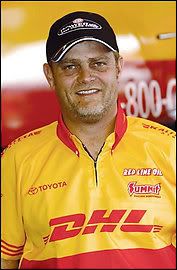 Here is the coverage from ESPN of the crash that contributed to the death of Scott Kalitta.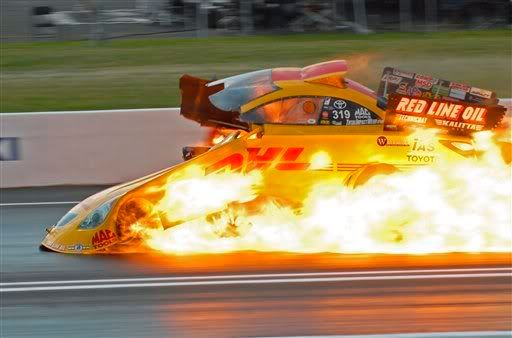 Godspeed Scott. I am sure you are smokin' the hides down that 1320 in the sky...