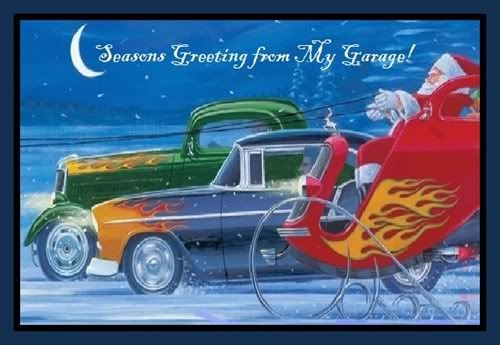 Here is a li'l something I wrote a few years ago and posted before. Hope your holiday is a good one!
'T was the night before a car guy Christmas
'T was the night before a car guy Christmas,
when all around the house
Not an engine was revving,
not even my small block Chevy - a.k.a. "the mouse".
The wrenches were hung
on the peg board with care,
In hope that St. Nicholas
soon would be there.
The children were nestled
All snug in their beds,
While visions of Weber side draft carburetors
danced in their heads.
My wife in her Victoria's Secret,
and I in a So Cal Speed Shop cap,
Had just settled our brains
for a long winter's nap,
When out by the garage
there arose such a clatter,
I sprang from my bed
to see what was the matter.
Down to the driveway
I flew like a flash,
Threw open the door
to check on my car stash.
The moon on the breast
of the new fallen snow
Gave a luster of midday
to all my hot rods below.
When what to my wondering eyes
should appear
But a candy apple red sleigh
and eight high octane reindeer.
With a little old hot rodder,
so lively and quick,
I knew in a moment
it must be St. Nick!
More rapid than Nascars
his coursers they came,
And he whistled and shouted
and called them by name:
"Now, Duece! Now, DeSoto!
Now, Plymouth and Bel Air!
On, Comet! On, Fairlane!
On, Corvette and Corvair!
Like a top fuel dragster
Stay out of the wall!
Now peel out! Burn out!
Lay rubber and all!"
As belly tankers
on dry lake beds do fly,
They meet with an obstacle,
and launched toward the sky,
So up to the rooftop
The coursers they flew,
With that sleigh full of power tools –
Oh yeah and St. Nicholas, too.
And then, in a twinkling,
I heard on my roof
The prancing and pawing
of each reindeer hoof.
As I gathered my head
and was turning around,
Down my old chimney St. Nicholas
came with a bound.
He was dressed in Levis and Dickies
From his head to his feets,
His clothes were all soiled
with oil and grease.
A bundle of vintage speed parts
he had flung on his back,
Like a Pomona Swap Meet vendor
just opening his pack.
His eyes, how they twinkled!
His dimples, so merry!
He had a tattoo of a heart,
in it the name Cherry!
And the beard on his chin was
like one worn by Bo,
It was long, wavy, curly
the color of snow.
A cigar like Bill Hines
he held tight in his mouth,
smoke encircled his head,
like a big ol' burnout.
He had a old face
and a little beer belly
It shook, when he laughed,
like a bowl full of jelly.
He was one of a kind,
the true O.G. hot rod elf,
I should give him a thumbs up,
I thought to myself.
I knew at that moment
I had nothing to dread
St Nick was a hip cat
he probably drove a flathead.
He ported and polished,
just kept to his engine work,
not until he had balanced and blueprinted,
did he turn with a jerk,
And laying a finger
alongside his nose,
While giving a nod
up my chimney he rose.
He sprang to his sleigh,
to his team gave a whistle,
And away they flew
like a new fangled missile.
But I heard him exclaim,
As he raced out of sight,
"Merry Christmas to all,
and to all a hot rod built right!"